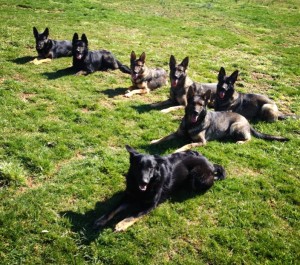 Along with dog training, K9 Headquarters breeds, raises, and trains German Shepherd Dogs.
We are extremely selective about our breeding program
We adhere to the German SV system for breeding of German Shepherd Dogs. Before being bred all of our dogs are thoroughly tested to prove their breed worthiness and to enter the breeding program. We train our own dogs in the sport of Schutzhund, giving us a deep and true understanding of our dogs abilities. Not only are our dogs proven , but they are from German bloodlines, with generation upon generation of dogs that went through rigorous testing before being bred. Schutzhund was created in Germany and is still used as a breed test for German Shepherd Dogs. It consists of three phases, Tracking, Obedience, and Protection. By testing our dogs in this fashion it ensures that only the very best dogs are contributing to the gene pool.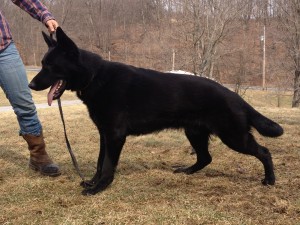 Before being bred ours dogs must:
Pass the BH, a companion dog title and temperament evaluation that is a requirement to go onto Schutzhund titles
Minimum of a Schutzhund 1 title
Minimum of SG show rating
Pass the AD, a 12 mile endurance test
Hips and elbows certified with OFA or SV
Breed Survey
Please contact us for more information about our dogs and future breedings.
If you are not wanting to start with a puppy, and prefer a dog who is already trained, please contact us for assistance and we can help you find what you are looking for.
Read more about Schutzhund and the German Shepherd Dog from the United Schutzhund Clubs of America
[callout title="Is a German Shepherd Dog the right dog for you?" button="Click Here" link="https://pittsburghdogtraining.com/german-shepherd-dogs/is-a-german-shepherd-dog-the-right-breed-for-you/" buttoncolor="white, yellow, orange, red, blue, green, gray, black, alternative-1, alternative-2, alternative-3″ target="_blank or _self"][/callout]
[callout title="Our Dogs" button="Click Here" link="https://pittsburghdogtraining.com/german-shepherd-dogs/our-dogs/" buttoncolor="white, yellow, orange, red, blue, green, gray, black, alternative-1, alternative-2, alternative-3″ target="_blank or _self"]Find out more about our German Shepherd Dogs[/callout]
[teaserbox title="Past and Future Puppies" button="Click Here" link="https://pittsburghdogtraining.com/german-shepherd-dogs/puppies/" buttonsize="small, medium, large" buttoncolor="white, yellow, orange, red, blue, green, gray, black, alternative-1, alternative-2, alternative-3″ target="_blank or _self"]Find out about our past, present and future litters[/teaserbox]
[teaserbox title="Adult Dogs for Sale" button="Click Here" link="https://pittsburghdogtraining.com/german-shepherd-dogs/trained-dogs-for-sale-2/" buttonsize="small, medium, large" buttoncolor="white, yellow, orange, red, blue, green, gray, black, alternative-1, alternative-2, alternative-3″ target="_blank or _self"]Looking for an older adult dog that has obedience/ and or protection training? [/teaserbox]
[callout title="Articles" button="Click here" link="https://pittsburghdogtraining.com/articles/" buttoncolor="white, yellow, orange, red, blue, green, gray, black, alternative-1, alternative-2, alternative-3″ target="_blank or _self"]Please check our blog and read some of our articles to find out more about German Shepherd Dogs, and whether they are the right breed for you![/callout]
[callout title="History of the German Shepherd Dog and Schutzhund" button="Click Here" link="https://pittsburghdogtraining.com/german-shepherd-dogs/what-is-schutzhundipo/" buttoncolor="white, yellow, orange, red, blue, green, gray, black, alternative-1, alternative-2, alternative-3″ target="_blank or _self"]A little history lesson. [/callout]