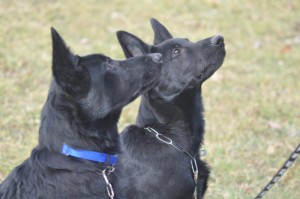 Our training methods:
At Pittsburgh Dog Training, we know each dog and owner are unique, we create an individualized program for you and your dog that leads to success.  We emphasize the use of your dogs innate drives and clear communication to create a happy and healthy working relationship between dog and owner.  We believe every dog, no matter what age or breed can and should be obedience trained in order to have a dog that is a joy to be around at home as well as being well mannered in a public environment.  Whether your goals are competing in obedience with your dog, or just wanting a well behaved pet, we have a program for you.
We Understand Each Dog is Unique
Just like every person has different motivations, each dog has unique drives that will motivate them to do work in a way they love.  We work with your dog to find out, what exactly it is that they LOVE.  Toy, food, praise, etc.  We want every dog to LOVE training.  Teaching is always always done with motivation.
You can go a long way with motivation, but in our opinion, for SOME dogs, it can't end there. I've worked with over a handful of dogs, that had been recommend to be put to sleep, because they were  labeled "dangerous".  Truth be told, they just did not fit into a 100% positive training approach. Not one of these dogs was put to sleep, and with the right training program for each unique situation, have been able to be managed and live happy lives, and yes, still enjoy training!
We take a balanced approach, and our methods are fun for your dog, for you,  and your entire family.  Our methods can also produce reliable obedience, anywhere you go with your dog.
Our German Shepherd Dogs: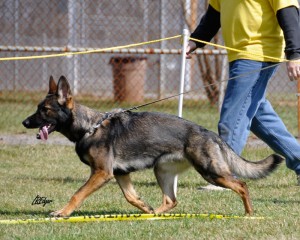 We adhere to the German SV system for breeding of German Shepherd Dogs. Before being bred all of our dogs are thoroughly tested to prove their breed worthiness and to enter the breeding program. We train our own dogs in the sport of Schutzhund/IPO, giving us a deep and true understanding of our dogs abilities. Schutzhund was created in Germany and is still used as a breed test for German Shepherd Dogs. It consists of three phases, Tracking, Obedience, and Protection. By testing our dogs in this fashion it ensures that only the very best dogs are contributing to the gene pool.
Before being bred ours dogs must:
 Pass the BH, a companion dog title and temperament evaluation that is a requirement to go onto Schutzhund titles
Minimum of a Schutzhund 1 title
Minimum of SG show rating
Pass the AD, a 12 mile endurance test
Hips and elbows certified with OFA or SV
Breed Survey
And, just because they pass these tests, still doesn't mean they are bred, we must truly believe that they are breed-worthy.  Believe it or not, we've seen dogs get all the above requirements, but still not be a dog that is to our standards of being a breeding animal.  We are very passionate and take very seriously the breeding of German Shepherd Dogs.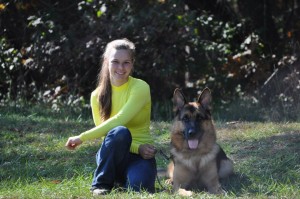 About the trainer:
I have been a dog lover since practically birth, I was raised with German Shepherd Dogs, and helped raise my first litter at around age 6.  In 2005 I got my first German Shepherd Dog to raise on my own,  that is when my dog training passion began and I became devoted to learning all there was to know in regards to dogs and training. Since then it has been non stop, and yet I feel like my dog training journey has just begun.
Along with training my own dogs the past 15 years, I spent 2 years working at an all breed boarding facility, which provided me hands on experience with several different breeds of dogs.  I spent 2 years at a breeding kennel, helping whelp, raise, train, title and show German Shepherd Dogs in the sport of Schutzhund and SV conformation showing.  I have worked with and learned from many different dog trainers and German Shepherd enthusiasts, including I feel, some of the very best that are out there.  I am extremely fortunate and have many people to thank for sharing their knowledge and experience with me, without them I would not be where I am today.  My personal dog training passion is in Schutzhund/IPO.  I have titled numerous different German Shepherd Dogs for Schutzhund/IPO titles, and trained several others.
But, the bottom line is, I love all dogs, and want them all to be happy, and make their "people" happy, therefore , I feel very satisfied that my training helps accomplish the most special bond there is, one between man and dog!
-Kristi McGinty
Owner/Founder/ Trainer
Pittsburgh Dog Training and Von haus Hudak German Shepherd Dogs