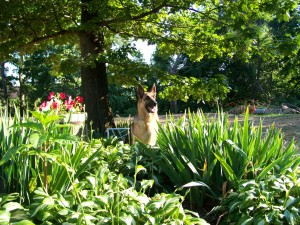 Our board and train program has become very popular.  Most of my board and train dogs, first came to me for a private lesson, I taught their owners how to teach Fido obedience training, and they left with every intention to follow through and teach Fido, what I had taught them. Things don't always work out as planned, and the best intentions for spending time training Fido, get pushed aside in the busy day to day shuffle. If you want to see results, training once a week with Fido, will just not cut it, or will take a long time to see progress. Training your dog is not hard, but it does require a time commitment.   We understand that is not always possible for those with a busy schedule, but busy or not, you deserve to have a trained dog, and your dog will thank you for it later.
That is why we created a board and train program, for those of you who want a trained dog, but just don't have the time to spend doing the training yourself.
Our  basic board and train program is 4-6 weeks (Usually 4)  And our *advanced is 8-10 weeks (Usually 8)In that time your dog will learn the obedience commands as follows:
Loose leash walking
Sit
Down
Stay
Come
Yes/No
In addition we can discuss problem behaviors as well.
Included with our boarding and training dog or puppy boot camp are 1-2 (or as many needed) lessons teaching YOU how to work your dog..  So what if your dog listens to us,  they must listen to you! These lessons are very important. Even though you won't have to do the initial training with this option, you still need to be well versed in how to make sure the training sticks!
*Advanced training  will produce off leash obedience.
**We also do board and train protection training in conjunction with obedience (for approved dogs), please contact us for more details.